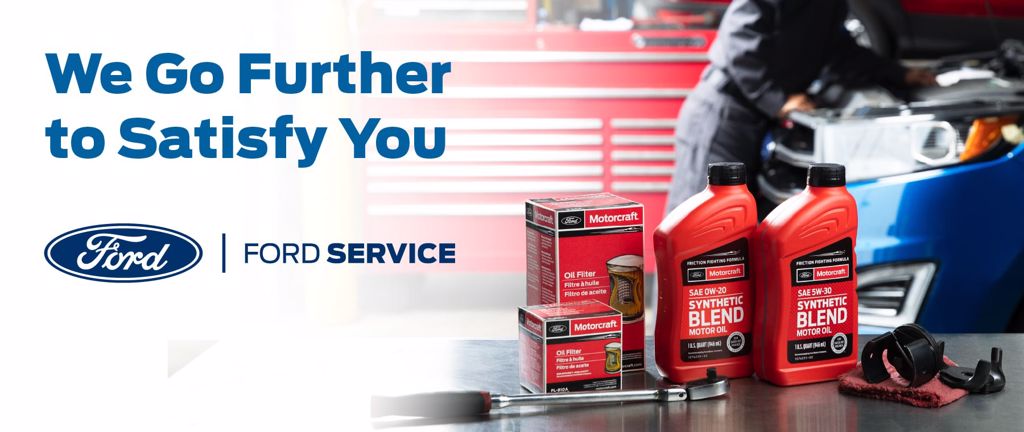 Service
WE GO FURTHER TO SATISFY YOU
Welcome Page About ACM Service Interval What Will Be Replaced First Service Visit Contact Details of the Branch Ford Mazaya/Loyalty Program Thank You
Welcome
Dear Customer,
It is an honour for us to welcome you to the FORD and Arabian Car Marketing Company family. We congratulate you on this remarkable decision of owning a FORD.
As you are well aware, Ford is one of the world's safest, reliable and well-trusted brands. By choosing Ford you have chosen to benefit from their award-winning characteristics.
On this milestone we wish to present to you the 'Know Your Product' that will assist you in knowing more about your Ford. The subjects will cover details about Service Availability; Service Accessibility across Oman and Service Affordability for your vehicle.
we hope to get you familarised with the service aspects of your Ford. This in turn will allow us to serve you better.
Once again, we congratulate you on making the right choice and wish you a Happy and Safe Motoring !
Arabian Car Market Company LLC
About ACM
Arabian Car Marketing Company LLC has been associated with Ford since 1988 and is the exclusive distributor for Ford and Lincoln vehicles in Oman.
ACM has 6 Ford sales branches and service facilities in 18 locations across Oman. Our exclusive service Facility is based in Wattayah, Muscat.
ACM has the most modern diagnostic equipment handled by fully trained technicians who are certified by Ford to handle and diagnose Ford and Lincoln vehicles across Oman. Our comprehensive service and spares coverage provides customer support across Oman. This is backed by ready spare parts availability at all locations.
ACM also has an exclusive Lincoln showroom in Wattayah that caters to customers of the Lincoln range.
Service Interval
NOW SERVICE YOUR FORD AND LINCOLN
EVERY 10,000 KMS OR ONCE IN 6 MONTHS
(WHICHEVER IS EARLIER)
Use of Motorcraft Synthetic Engine Oil from Ford Motor Company optimizes the engine life of your Ford and Lincoln Vehicle. And what you get is a longer peace-of-mind and extended smiles per mile. Now Go Further with the New Extended Service Interval.
What Will Be Replaced
| Part | Petrol (Every Kms) | Diesel (Every Kms) |
| --- | --- | --- |
| Engine Oil & Filter | 10,000 | 10,000 |
| Fuel Filters (EM & FM) | | 40,000 |
| Engine Air Filter | 50,000 | 72,000 |
| Cabin Air Filter | 50,000 | 50,000 |
| Seat Filter | 50,000 | 50,000 |
| Coolant | 160,000 | 160,000 |
| Spark Plugs | 160,000 | |
| Accessory Belt | 160,000 | 240,000 |
| ATM Fluid/Filters | 240,000 | 240,000 |
| Transmission Fluid (M) | 150,000 | 150,000 |
| Front Axle Fluid | 240,000 | 240,000 |
| Front Wheel Bearings | 240,000 | 240,000 |
| Rear Axle Fluid | 240,000 | 160,000 |
| Transfer Case Fluid | 240,000 | 240,000 |
First Service Visit
Like any vehicle, your Ford too requires you to bring it for regular service. This helps in keeping your Ford fit and making your journeys rewarding.
As per our service policies, to serve you better, all vehicles are admitted for service through appointments except those that require critical/emergency attention.
Just so that you don't spend precious time reminding yourself about this simple task, our service team leaders will speak to you a week before your service due date. This personalized reminder service comes at no extra cost and will remind you to schedule an appointment whenever service is due.
On an average the period of service for any Ford vehicle is around 90 minutes. This is in case the vehicle is admitted for regular service with no extraordinary faults. The same may extend to an hour in case of a major service interval.
Contact Details of the Branch
Ford Mazaya
Ford Mazaya is a uniquely rewarding service loyalty program specially designed for Ford owners in the Sultanate of Oman.
As a Ford Mazaya member, you can now benefit from outstanding rewards in addition to the peace of mind you enjoy when you service your vehicle at any world-class ACM service facility.
You can earn points on your Ford Mazaya card every time you service or repair your vehicle or buy spare sparts at an ACM facility anywhere in Oman. You can then redeem these points for special discounts on your next visit.
For more details, please contact your nearest Ford/ACM service facility.
Contact Us
If you need Customer Assistance, our Customer Relationship Center is available to assist you with all your automotive needs.