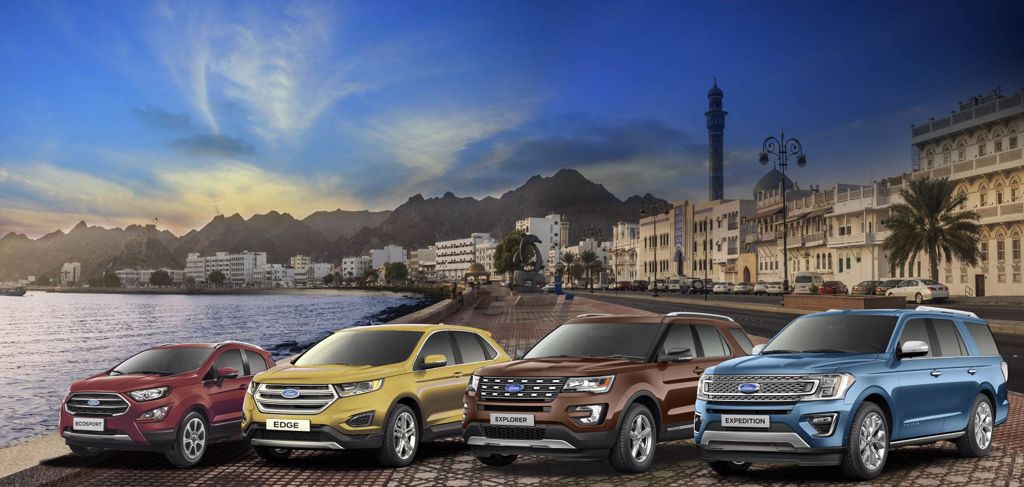 Own Your Favourite Ford with Exciting Benefits
Ford vehicles have long been a symbol of safety and technology. Advancements and driving dynamics focused on driver and passenger experiences have given Ford a special place in the hearts of customers.
Ford's latest range of vehicles has the perfect balance of aspects like new-age design, industry-inspiring safety features, advanced technology and more. Indeed owning a Ford is a rewarding experience.
Now Ford Oman, give you an opportunity to take this experience even further, with an exclusive offer. Customers can look forward to Cash Gifts from RO 1250 to RO 8500, Petrol Card from RO 200 to RO 300, Trade-in Bonus of RO 300, 3 EcoSport Raffle Prizes and Service 3 Years / 60,000 kms. (For details on terms & conditions, customers are invited to visit any Ford showroom.)
Ford vehicles have always given customer the advantage of enjoying unbelievable value for money, better vehicle with better features, better technologies and a brand name that is constantly making waves around the world by leading in innovation. Ford vehicles have built a huge reputation for being sturdy, robust, dependable, futuristic and safe. Right from hatchbacks, to SUVs and pick-ups, Ford vehicles have made a lasting impression on customers across the globe.
In Oman, enthusiasts can choose from a diverse range that includes:
The 1.5L Focus powered by an EcoBoost Engine is an ideal choice for the younger generation. It is fun to drive both to work and for weekend fun. This compact front-driver features an international design pedigree and introduces numerous class-exclusive technologies, including a host of premium-level comfort, convenience and safety features like torque vectoring control, cruise control and more. The Focus is one of the highest selling cars in the world.
The Ford Taurus is a large sedan ideal for customers who desire exceptional space and comfort. It is increasingly being preferred by customers for its power and technologies and a huge sense of safety which will surround you the moment you comfortably seat yourself in it. The Ford Taurus is available with a 3.5L engine with curve control and more.
The Ford Mustang is the largest selling sport coupe in the world. The Mustang has throughout history remained an icon for those who prefer to be different. Preferred by customers across age groups, the Mustang is loaded with interesting features and technologies that allow it to make every drive outstanding. The Mustang is available in 5.0L and 5.2L Shelby variants with 10-speed A/T.
Ford EcoSport is an ideal compact SUV for those who want to want add fun to their daily chores. The Ford EcoSport is available in two variants – EcoSport Ambiente and EcoSport Trend. Engine options include 1.5L Dragon TiVCT engine delivering 123 PS, paired to a 6-speed automatic transmission.
The Ford Edge is a midsize crossover SUV that features a modern-looking interior. It is equipped with a standard 3.5-litre V6 engine. Vehicle is equipped with a host of features such as hands-free liftgate, DEATC, Heated and Cooled front leather seats, Paddle Shifter and more.
The Ford Explorer comes standard with a 3.5-litre engine. The Ford Explorer now sports abundant new features; better cargo space behind the third row and a quiet highway ride, Adaptive Cruise Control, BLIS and Enhanced Active Park Assist.
The new generation Expedition is the most powerful and fuel-efficient till now, offering customers a full-size utility vehicle with a 3.5L EcoBoost® Engine producing 400 HP, stylish design and fresh interiors. It also features rotary gear shift and 10-speed automatic transmission and safety features like Pre-collision assist with pedestrian detection, BLIS®, Adaptive Cruise Control with stop-and-go driving and much more.
Ford Ranger is very much a work truck that can tackle the worst on and off road conditions. The new Ford Ranger comes with 4x4 and three engine options – 2.5L Petrol, a 2.2L diesel engine and a 3.2L Diesel engine.
The F-150 5.0-litre V8 with twin independent variable camshaft timing has improved power and efficiency and features several innovative and smart technologies. The F 150 is also available in 3.5L EcoBoost engine.
In Oman, Ford vehicles are brought to you by Arabian Car Marketing Co. LLC. Please log on to www.fordoman.com, or www.facebook.com/FordOman or www.youtube.com/FordOmanChannel or www.instagram.com/ford_oman for the latest news, test drive requests and the latest press releases.
Latest News